When:
March 31, 2023
all-day
Asia/Manila Timezone
2023-03-31T00:00:00+08:00
2023-04-01T00:00:00+08:00
Where:
University of Southern MindanaoMain Campus
Kabacan North Cotabato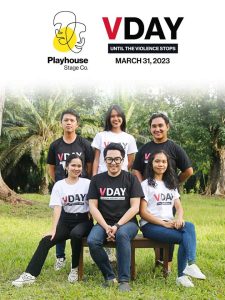 𝐕𝐃𝐚𝐲: 𝐔𝐧𝐭𝐢𝐥 𝐭𝐡𝐞 𝐕𝐢𝐨𝐥𝐞𝐧𝐜𝐞 𝐒𝐭𝐨𝐩𝐬
Last Friday, the International Women's Month Celebration 2023 in the University of Southern Mindanao kicked off with the VDay, a global activist movement to end violence against women and girls.
The highlight of this event was the One Billion Rising flash mob dance and the formal introduction of the cast and crew members of the opening production of the 1st theatrical season of Playhouse Stage Co. "The Vagina Monologues".
"The Vagina Monologues" is an episodic play written by author and activist Eve Ensler. Based from true stories of women, the piece celebrates women's sexuality and strength by discussing what society considers as taboo topics with humor and grace.
"𝐓𝐡𝐞 𝐕𝐚𝐠𝐢𝐧𝐚 𝐌𝐨𝐧𝐨𝐥𝐨𝐠𝐮𝐞𝐬"
Cast:
𝐂𝐚𝐫𝐦𝐞𝐥𝐥𝐚 𝐏𝐥𝐚𝐧𝐠
𝐌𝐚𝐡𝐚𝐝𝐞𝐲𝐚 𝐏𝐚𝐤𝐢𝐥
𝐍𝐢𝐞𝐳𝐚 𝐐𝐮𝐢𝐥𝐚𝐫𝐭𝐨
Director: 𝐋𝐥𝐨𝐲𝐝 𝐀𝐧𝐭𝐨𝐧 𝐕𝐨𝐧 𝐂𝐨𝐥𝐢𝐭𝐚
Stage Manager: 𝐁𝐫𝐢𝐚𝐧 𝐂𝐚𝐥𝐩𝐢𝐭𝐨
Production Manager: 𝐏𝐡𝐢𝐥𝐢𝐩 𝐉𝐨𝐡𝐧 𝐓𝐚𝐛𝐚𝐝𝐚
March 31, 2023
Matinee: 1:00 pm, Gala: 3:00 pm
#RealTheaterToday
#TheVaginaMonologues
#InternationalWomensMonth
Photography: JC Thaddeus Provida
Assistance: Samantha Kaye Politico
©ABES Committee on Graphics and Journalism