Caring Careers. Supporting Excellence.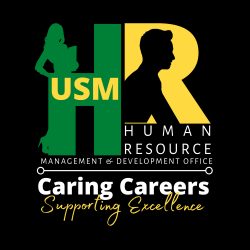 The Human Resource Management and Development Office is the main service arm of the university mandated to take charge in the administration of effective human resource management and development of faculty, research, extension, production and administrative support personnel. The main services of the office include: Recruitment; Selection; and Placement (RSP); Learning and Development (L&D); Compensation; Benefits; Rewards and Recognition (CBR); Performance Management (PM); Welfare, Policy and Technology Support (WPTS).
Per Resolution 2200806, the Civil Service Commission granted the university the Bronze Award in the Program to Institutionalize Meritocracy and Excellence in Human Resource Management (PRIME-HRM) after meeting the maturity level 2 indicators in RSP, PM, L&D, R&R. The office is also supported by the Office of University President as one of the pillars of the Smart University Initiative to hone agile and future-ready human resources.
HRMDO advises the University President on human resource policy and administration including proper implementation of Civil Service Rules and Budget Circulars on compensation, reclassification and salary adjustments.