When:
March 12, 2023
all-day
Asia/Manila Timezone
2023-03-12T00:00:00+08:00
2023-03-13T00:00:00+08:00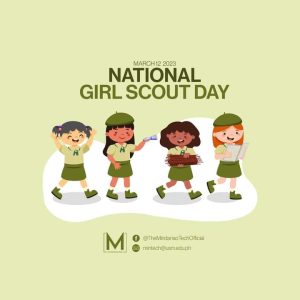 𝗚𝗶𝗿𝗹 𝗦𝗰𝗼𝘂𝘁 𝗹𝗮𝗴𝗶𝗻𝗴 𝗵𝗮𝗻𝗱𝗮!
The National Girl Scout day is a distinct celebration of America's girl scouts, which is annually celebrated on the 12th day of March. This is to pay homage to all that Juliette Gordon Low did for the millions of girls over the world and to celebrate the commitment of the Girl scouts of America to building strong leaders and providing meaningful experiences to all young women across the country.
God, country, and mankind are the 3 parts of the Girl Scout Promise symbolizing three loops forming the trefoil (green). The circle stands for the sisterhood of the Girl Guiding and Girl Scouting around the world.
Philippines— the country's girl scout commenced as early as 1918's with GSUSA troops organised by American Missionaries. It was not until 1939 that the Girl Scout Movement was officially launched following the GSP founder Josefa Llanes Escoda's accession from an intensive Girl Scout training in the USA. Meanwhile, the First Lady Liza Louise Araneta Marcos was recently designated as the Chief Girl Scout of the Philippines.
Nothing has greater salutation than a girl scout for the nation. Get your scout clothes on as we commemorate this crucial day for girls around the world.
#TheMindanaoTech
#MakeAChangeTellTheTruth
✍️: Mohamad Sumael | MT Intern