𝗕𝗮𝘆𝗯𝗮𝘆, 𝗟𝗲𝘆𝘁𝗲- The SOCCSKSARGEN Agriculture, Aquatic and Natural Resources Research and Development Consortium (SOXAARRDEC) conducted a cross-visit and benchmarking activity at Visayas Consortium for Agriculture, Aquatic and Natural Resources Research and Development Program (ViCARP), Visayas State University (VSU), Baybay, Leyte, on September 13-15, 2022 with the goal of learning the best practices in managing the consortium and their projects to improve the conduct of activities in Region 12 by knowing SOXAARRDEC.
A courtesy call was conducted on the first day to the VSU President, Dr. Edgardo E. Tulin who was represented by VSU Vice President for Administration and Finance, Dr. Daniel Lelsie S. Tan, and ViCARP Consortium Director, Dr. Maria Juliet Ceniza at the Regional Climate Change Development Research Center. Dr. Ceniza presented the milestones of ViCARP and the breakthroughs that led to the success of the consortium. During the visit, discussion on the possible collaboration of the two consortia transpired.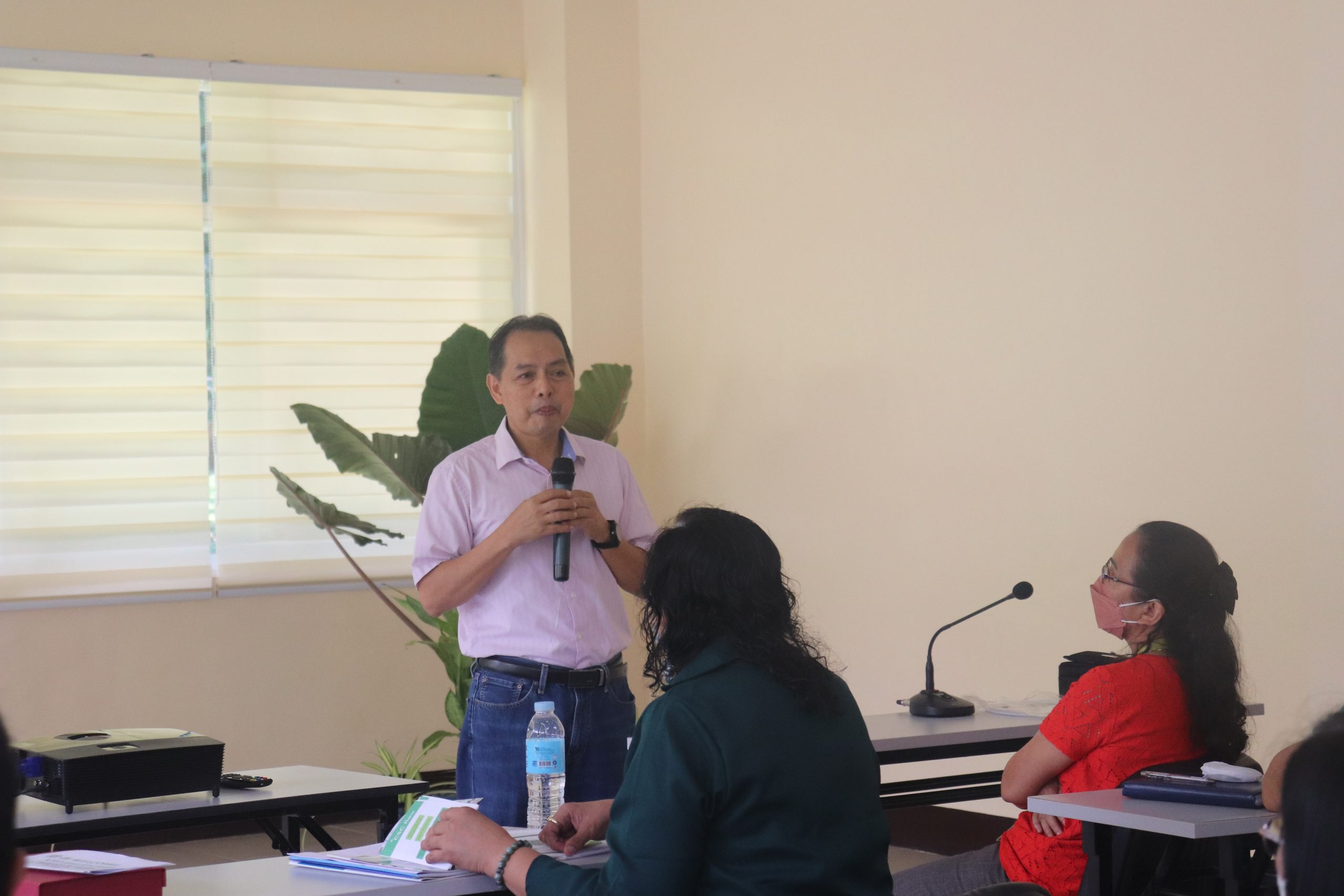 Present in the activity were Prof. Alan B. Loreto, the Director for Innovation at the Office of the Vice President for Research, Extension, and Innovation (OVPREI), Dr. Eduardo Mangaoang, the Director for Regional Climate Change Development Research Center, Dr. Rosa Ophelia D. Velarde, the ViCARP R&D Cluster Coordinator, Elmira Y. Bańoc, the ViCARP Science Communication Cluster Coordinator and Engr. Sean O. Villagonzalo, the ICT Cluster Coordinator.
The Region 8 Agricultural Training Institute- Regional Training Center (ATI-RTC) which is located inside the VSU Campus was visited by the SOXAARRDEC team together with its Consortium Member Institution (CMI) representatives. The Region 8 ATI Director, Hazel Grace T. Taganas, presented the activities and initiatives of the training center.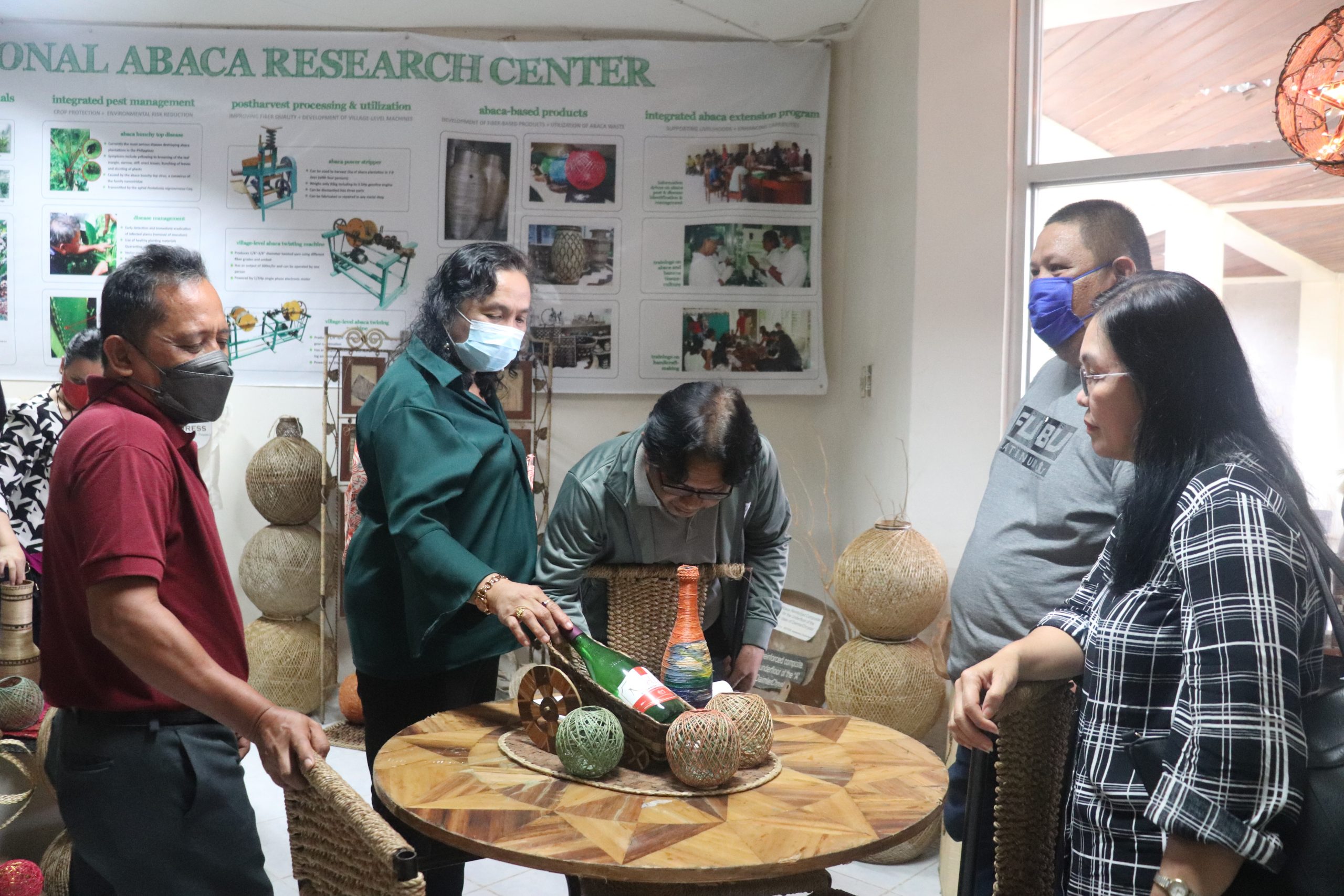 A visit to the different centers of the University was also done namely: National Coconut Research Center Visayas, National Abaca Research Center, PhilRootcrops Advance Research and Innovation Center, and Regional Climate Change Research and Development Center Biodiversity Center.
Lastly, as one of the successful beneficiaries of the strong "ugnayan" of ViCARP, SOXAARRDEC paid a visit to the Villaconzoilo Farm in Jaro Leyte. Mr. Alex Aborita, the President of the association, narrated the challenges faced by the members of their community and breakthroughs to success. According to him, the government agencies in their province namely: Department of Agriculture, Agricultural Training Institute, Technical Education Skills Development Authority, Visayas State University, Department of Public Works and Highways, Local Government Unit of Jaro, 4H Club, and the Department of Science and Technology, provided full support from the beginning of their quest. All these were put in place through the coordination executed by ViCARP.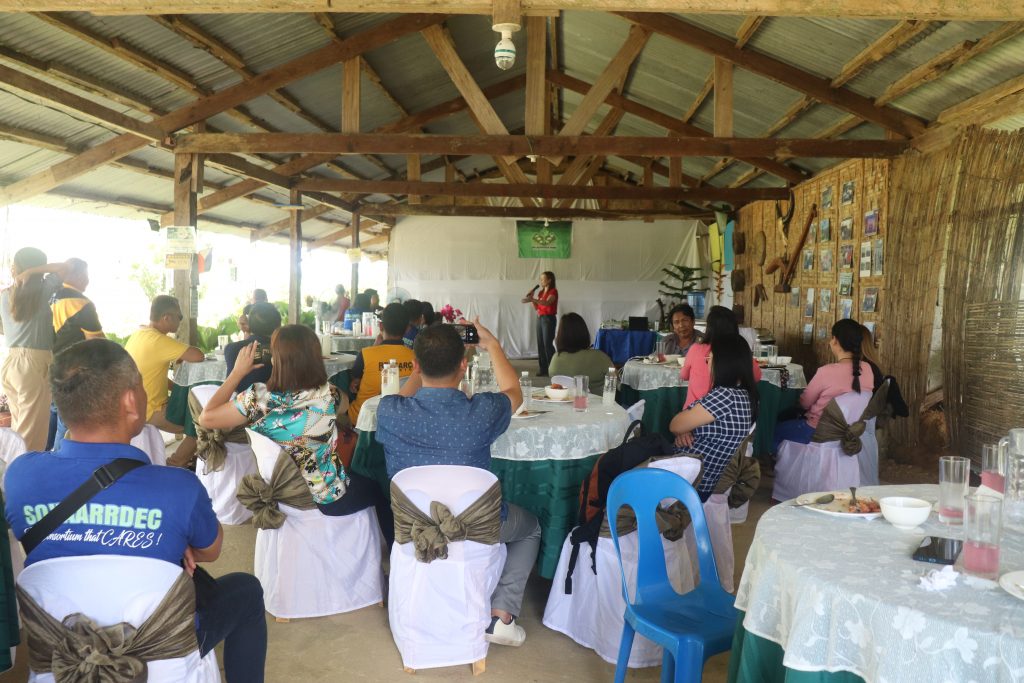 The benchmarking activity of SOXAARRDEC was made possible through the ugnayan of its consortium member institutions to wit, University of Southern Mindanao, Sultan Kudarat State University, Cotabato Foundation College of Science and Technology, South Cotabato State College, DA- Regional Field Office 12, Philippine Rubber Research Institute, and PhilRice-Midsayap Experimental Station.
Dr. Josephine R. Migalbin, the Consortium Director, expressed her elation to ViCARP and VSU. In a facebook post she said "𝙏𝙤 𝙑𝙞𝙨𝙖𝙮𝙖𝙨 𝙎𝙩𝙖𝙩𝙚 𝙐𝙣𝙞𝙫𝙚𝙧𝙨𝙞𝙩𝙮 (𝙑𝙎𝙐) 𝙖𝙣𝙙 𝙑𝙞𝙨𝙖𝙮𝙖𝙨 𝘾𝙤𝙣𝙨𝙤𝙧𝙩𝙞𝙪𝙢 𝙛𝙤𝙧 𝘼𝙜𝙧𝙞𝙘𝙪𝙡𝙩𝙪𝙧𝙚, 𝘼𝙦𝙪𝙖𝙩𝙞𝙘 𝙖𝙣𝙙 𝙉𝙖𝙩𝙪𝙧𝙖𝙡 𝙍𝙚𝙨𝙤𝙪𝙧𝙘𝙚𝙨 𝙋𝙧𝙤𝙜𝙧𝙖𝙢 (𝙑𝙞𝘾𝘼𝙍𝙋), 𝙩𝙝𝙖𝙣𝙠 𝙮𝙤𝙪 𝙛𝙤𝙧 𝙩𝙝𝙚 𝙬𝙖𝙧𝙢 𝙝𝙤𝙨𝙥𝙞𝙩𝙖𝙡𝙞𝙩𝙮. 𝙎𝙊𝙓𝘼𝘼𝙍𝙍𝘿𝙀𝘾 𝙞𝙨 𝙛𝙤𝙧𝙚𝙫𝙚𝙧 𝙜𝙧𝙖𝙩𝙚𝙛𝙪𝙡. 𝙎𝙝𝙤𝙪𝙩 𝙤𝙪𝙩 𝙩𝙤 𝘿𝙧. 𝙈𝙖𝙧𝙞𝙖 𝙅𝙪𝙡𝙞𝙚𝙩 𝘾. 𝘾𝙚𝙣𝙞𝙯𝙖, 𝙘𝙤𝙣𝙨𝙤𝙧𝙩𝙞𝙪𝙢 𝙙𝙞𝙧𝙚𝙘𝙩𝙤𝙧 𝙖𝙣𝙙 𝙑𝙎𝙐 𝙑𝙋 𝙛𝙤𝙧 𝙍𝙚𝙨𝙚𝙖𝙧𝙘𝙝, 𝙀𝙭𝙩𝙚𝙣𝙨𝙞𝙤𝙣 𝙖𝙣𝙙 𝙄𝙣𝙣𝙤𝙫𝙖𝙩𝙞𝙤𝙣, 𝘿𝙧. 𝙀𝙡𝙢𝙞𝙧𝙖 𝙋𝙚𝙨𝙘𝙖𝙙𝙚𝙧𝙤 𝙔𝙗𝙖𝙣𝙚𝙯 𝙖𝙣𝙙 𝙑𝙞𝘾𝘼𝙍𝙋 𝙨𝙩𝙖𝙛𝙛 𝙛𝙤𝙧 𝙩𝙝𝙚 𝙬𝙚𝙡𝙡-𝙥𝙡𝙖𝙣𝙣𝙚𝙙 𝙖𝙘𝙩𝙞𝙫𝙞𝙩𝙞𝙚𝙨 𝙮𝙤𝙪 𝙝𝙖𝙫𝙚 𝙤𝙧𝙜𝙖𝙣𝙞𝙯𝙚𝙙! 𝙏𝙝𝙖𝙣𝙠 𝙮𝙤𝙪 𝙫𝙚𝙧𝙮 𝙢𝙪𝙘𝙝!"