In the morning of September 2, 2019, 13 people from the Seventh Infantry "Tapat" Battalion (7th IB) and University of Southern Mindanao (USM) headed out on a mission.
After almost an hour of travel from Kabacan, the team boarding KM250 and M35 vehicles headed by LTC Neil Alfonso K. Camsa INF (GSC) PA of 7th IB and Dr. Francisco Gil N. Garcia of USM reached Langayen. Being the farthest barangay in the municipality of Pikit, Langayen used to be a war-torn area in this part of North Cotabato. Just another few minutes and they had finally reached their destination: Langayen-ZT Hamid High School (LZHHS).
Upon entering the school grounds, the team was greeted by the sight of a group of excited students watching from the covered hall welcoming the guests with their big smiles. These were some of the 226 students from this remote barangay currently enrolled and enjoying the education this school provides.
This was the team's mission for the day, far different from what they were used to.
As part of their advocacy, the 7th "Tapat" IB partnered with USM, a Level IV state university in Kabacan, to provide assistance to Langayen-ZT Hamid High School. An extension of Takepan High School, LZHHS became operational in 2017 catering to Grades 7 and 8. After two years since its opening, LZHHS now offers full Junior High School and had 19 completers last year.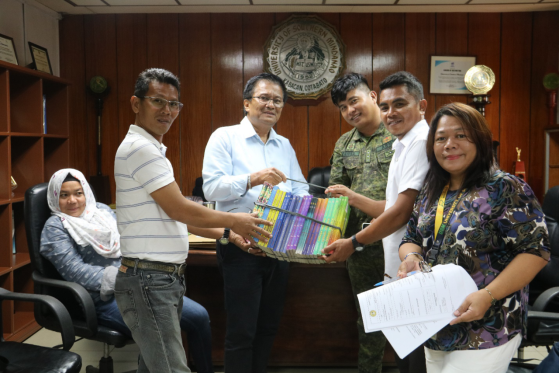 The soldiers assigned in Lower Paatan, Kabacan presented to the students and teachers of Langayen a total of 30 chairs, 7 tables, and books as part of their mission to aid in other sectors of the community.
"Serbisyong Tapat, Para sa Lahat" is 7th IB's slogan which mirrors their initiative of extending their service beyond borders and assisting in whatever capacity the community needs them. "One of the greatest benefits as commanding officer and a soldier is to be of service to the community in any possible way. AFP is always about 'honor, patriotism, duty'," said LTC Roldan.
As a partner, USM has always been at the forefront in delivering services to the students, stakeholders, and clientele in southern Mindanao. Guided by its four-fold functions, USM sees extension activity as one of the pillars in nation building. "We hope our simple donation to the students of Langayen will inspire the students to value education more and use this as motivation to better their lives and their community," Dr. Garcia emphasized.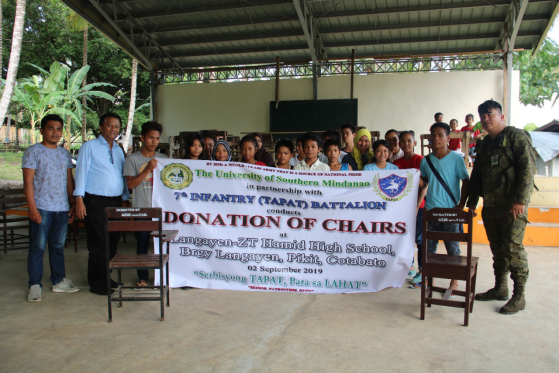 More than being aligned to their institutions' continued quest for service and excellence, this initiative also marks the fulfillment of their mission to produce quality and good members of the community through more partnerships and community linkages.
What was once a war-torn area is now a potential breeding ground for the next leaders in the community, provided that a constant support from all sectors in the government are in place. This is the mission of 7th IB and USM. This must also be everyone's mission – our social responsibility.