Associate Professor Lloyd Anton Von M. Colita, MEAL, SMRIL's research paper entitled "Framing Marcos Jr.'s SONA: Comparative Study of Online News in the Philippines" was adjudged as Best Research Paper during the 1st International Campus Media Research Conference held on November 8-9, 2023 at Grand Astoria Hotel, Zamboanga City.
Prof. Colita's award-winning research employed content analysis techniques to examine news articles related to President Ferdinand "Bongbong" Marcos, Jr.'s second State of the Nation Address (SONA). The study incorporated the five news frames outlined by Semetko and Valkenburg, focusing on the attribution of responsibility, human interest, conflict, morality, and economic consequences.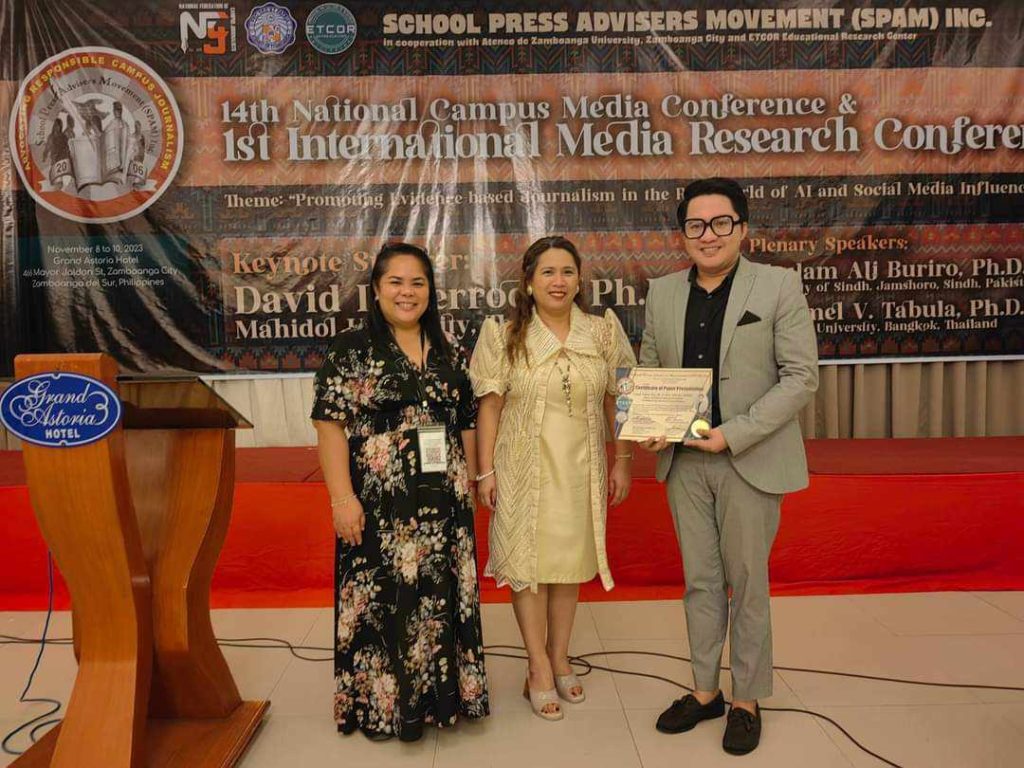 Reflecting on his unexpected win, Prof. Colita admitted, "After hearing all the research presentations, I honestly did not expect to win any award at all because the papers presented were all so good and carefully chosen by the organizers. But looking back, my paper presented the news media landscape of the Philippines since I looked into 20 news articles from all over the country. In this day and age of digitalization, we can combat fake news through evidence-based research."
In his online statement, Prof. Colita expressed gratitude and dedicated the honor to various individuals and entities, including USM President Dr. Francisco Gil Garcia, VPRDE Dr. Ma. Teodora Cabasan, USM VPAA Dr. Geoffray R. Atok, The Mindanao Tech, as well as his team of coders: Rico John Gorieza, Remie Delos Santos, and Carmella Plang. He also acknowledged the support from the Department of English Language and Literature.
Evaluators for the Best Research Paper included Dr. Richard P. Sanchez, Chairman of the Panel of Judges, from ETCOR Educational Research Center-Philippines; Prof. David D. Perrodin, Ph.D., from the Institute of Population and Social Research at Mahidol University, Thailand; Dr. Rommel V. Tabula, Ph.D., from Katsetsart University, Bangkok, Thailand; Dr. Ghulam Ali Buriro from the University of Sindh, Jamshoro, Pakistan; and Richard Biason from the University of Technology and Applied Sciences, Salah, Oman – Dhofar, Oman.
School Press Advisers Movement, Inc., ETCOR Educational Research Center, and Ateneo de Zamboanga organized the event to showcase a diverse range of research contributions in the field.