When:
February 15, 2023 @ 11:22 am – 12:22 pm
Asia/Manila Timezone
2023-02-15T11:22:00+08:00
2023-02-15T12:22:00+08:00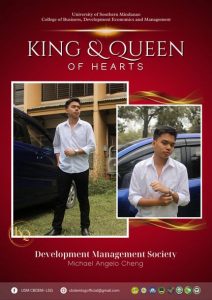 In line with the celebration of Valentine's Day, the CBDEM-LSG presents to all of you the "𝘼𝙜𝙖𝙥𝙚: 𝘼 𝙑𝙖𝙡𝙚𝙣𝙩𝙞𝙣𝙚'𝙨 𝘿𝙖𝙮 𝙎𝙥𝙚𝙘𝙞𝙖𝙡"– 𝐊𝐢𝐧𝐠 𝐚𝐧𝐝 𝐐𝐮𝐞𝐞𝐧 𝐨𝐟 𝐇𝐞𝐚𝐫𝐭𝐬 𝟐𝟎𝟐𝟑. The contest is open for CBDEMians coming from different societies of College of Business, Development Economics and Management (CBDEM). The candidates are encouraged to dress according to the theme – Gatsby or formal attire. This will help them to showcase their talents and expose them to modeling with such creativity, charisma, and chemistry along with their partners.
The contest is an online voting (50%) that will start at the moment it will be posted. The reactions that will be counted are Like, Hearts and Wow only. Be mesmerized by their charm and support the candidates you aspire to succeed.
𝘐𝘯 𝘢 𝘤𝘢𝘳𝘥 𝘨𝘢𝘮𝘦, 𝘵𝘩𝘦 𝘒𝘪𝘯𝘨 𝘰𝘧 𝘏𝘦𝘢𝘳𝘵𝘴 𝘴𝘺𝘮𝘣𝘰𝘭𝘪𝘻𝘦𝘴 𝘱𝘰𝘸𝘦𝘳, 𝘢𝘮𝘣𝘪𝘵𝘪𝘰𝘯, 𝘴𝘶𝘤𝘤𝘦𝘴𝘴 𝘢𝘯𝘥 𝘷𝘪𝘤𝘵𝘰𝘳𝘺 𝘢𝘯𝘥 𝘪𝘴 𝘤𝘰𝘯𝘴𝘪𝘥𝘦𝘳𝘦𝘥 𝘢𝘴 𝘵𝘩𝘦 𝘩𝘪𝘨𝘩𝘦𝘴𝘵-𝘳𝘢𝘯𝘬𝘪𝘯𝘨 𝘨𝘢𝘮𝘦 𝘤𝘢𝘳𝘥. 𝘞𝘩𝘪𝘭𝘦 𝘵𝘩𝘦 𝘘𝘶𝘦𝘦𝘯 𝘰𝘧 𝘏𝘦𝘢𝘳𝘵𝘴 𝘳𝘦𝘱𝘳𝘦𝘴𝘦𝘯𝘵𝘴 𝘵𝘩𝘦 𝘧𝘦𝘮𝘪𝘯𝘪𝘯𝘦 𝘢𝘴𝘱𝘦𝘤𝘵𝘴 𝘰𝘧 𝘭𝘪𝘧𝘦 𝘴𝘶𝘤𝘩 𝘢𝘴 𝘭𝘰𝘷𝘦, 𝘧𝘦𝘳𝘵𝘪𝘭𝘪𝘵𝘺, 𝘢𝘯𝘥 𝘤𝘳𝘦𝘢𝘵𝘪𝘷𝘪𝘵𝘺. 𝘛𝘰𝘨𝘦𝘵𝘩𝘦𝘳, 𝘵𝘩𝘦 𝘬𝘪𝘯𝘨 𝘢𝘯𝘥 𝘲𝘶𝘦𝘦𝘯 𝘴𝘵𝘢𝘯𝘥 𝘪𝘯 𝘧𝘰𝘳 𝘵𝘩𝘦 𝘪𝘥𝘦𝘢𝘭 𝘱𝘢𝘪𝘳𝘪𝘯𝘨, 𝘰𝘯𝘦𝘯𝘦𝘴𝘴, 𝘢𝘯𝘥𝘳𝘰𝘨𝘺𝘯𝘺, 𝘵𝘩𝘦 𝘴𝘶𝘯 𝘢𝘯𝘥 𝘮𝘰𝘰𝘯, 𝘩𝘦𝘢𝘷𝘦𝘯 𝘢𝘯𝘥 𝘦𝘢𝘳𝘵𝘩, 𝘢𝘯𝘥 𝘥𝘢𝘺 𝘢𝘯𝘥 𝘯𝘪𝘨𝘩𝘵.