When:
February 18, 2023
all-day
Asia/Manila Timezone
2023-02-18T00:00:00+08:00
2023-02-19T00:00:00+08:00
Where:
USM Ground
Kabacan North Cotabato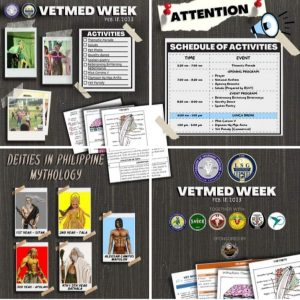 📣 EYES HERE! 📣
Are we all hyped for this year's VetMed Week? Here is the most anticipated schedule of events for everyone, organized by the CVM-LSG, and scheduled for February 18, 2023 at the USM Grounds! Together, let's celebrate the veterinary medicine profession!
Guidelines for each competition are available from the officers and were distributed to class representatives; simply register now for your chance to win wonderful rewards!
Brought to you by:
📌 CVM-LSG
In collaboration with:
📌 USM-AVMS
📌 USM-AVTS
📌 SAVER-USM
📌 RCP-USM
📌 USM-VKV Omicron Chapter
📌 USM-VLV Xi Chapter
Sponsored by:
📌 Macarus 1.0 Kabacan
𝘗𝘩𝘰𝘵𝘰 | 𝘛𝘦𝘹𝘵: 𝘎𝘸𝘺𝘯𝘦𝘵𝘩 𝘒𝘰𝘭𝘦𝘦𝘯 𝘓𝘰𝘱𝘦𝘻 & 𝘌𝘳𝘪𝘤 𝘑𝘰𝘩𝘯 𝘗𝘦𝘳𝘰𝘯𝘰