After months of waiting since the evaluation, the University of Southern Mindanao received the Recognition for Proficiency in Quality Management (Level II) conferred by the Office of the President of the Philippines last May 17, 2022 at the Malacañang Palace Guest House.
By reaching Level II of the Philippine Quality Award (PQA), USM has achieved significant progress in building sound processes which demonstrates the institution's commitment to excellence and its dedication to upholding quality standards in education.
The conferment ceremony facilitated by the Department of Trade and Industry (DTI), was attended by high-ranking officials of the DTI and the Development Academy of the Philippines (DAP), awardees representing their respective organizations, PQA board of judges, and PQA assessors. Executive Secretary Lucas Bersamin represented President Ferdinand Marcos, Jr. in awarding trophies to the 12 awardees of the 25th PQA Cycle.
President Francisco Gil N. Garcia, PhD and the Chairman of USM BOR, Commissioner Ronald L. Adamat, PhD received the award for the University of Southern Mindanao.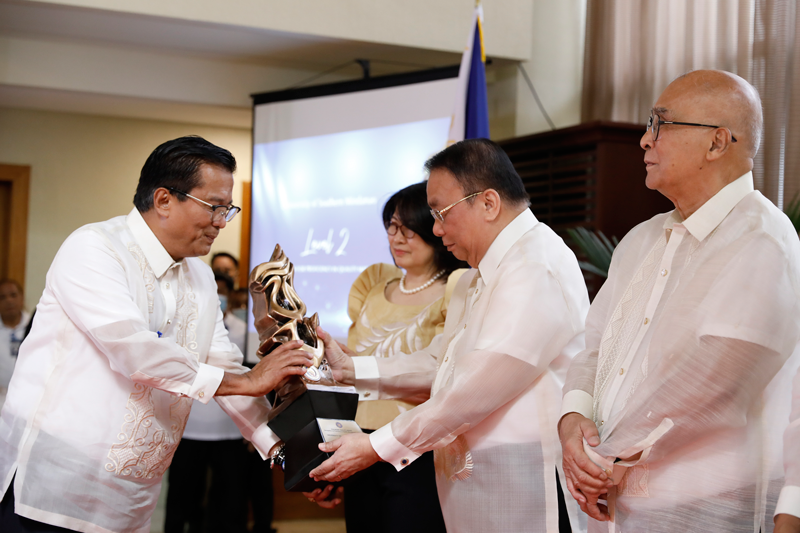 The Philippine Quality Award (PQA), is the centerpiece program of the National Action Agenda for Productivity (NAAP), the blueprint for the country's integrated approach to improve economy-wide productivity. It sets a standard of excellence to help Filipino organizations achieve world-class performance and serves as a 'template" for competitiveness based on the principles of Total Quality Management (TQM).
In his message during the celebration at USM, President Garcia borrowed the words of John Ruskin. He said, "Quality is never an accident. It is always the result of intelligent effort". "May this recognition inspire us daily to provide quality services to our clientele through our mandated functions", he added.
Through the award, the University of Southern Mindanao has once again proven its lead in the delivery of quality education as it is the first and the only HEI (Higher Education Institution) in the province and only the second HEI in Region 12 to have been conferred the award.
USM was evaluated in various aspects of its operations, including leadership, strategy, customers, measurement, analysis and knowledge management, and human resource.
#GreatUSm
#TatakUSM
#PQA
#DTI
Photos: Philippine Quality Award (PQA) Program