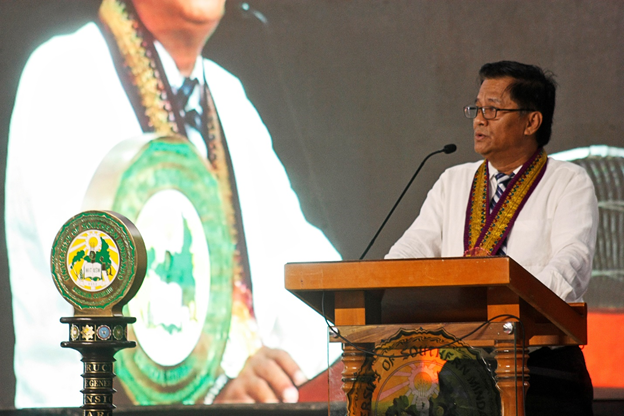 The seventh president of the University of Southern Mindanao Dr. Francisco Gil N. Garcia delivered his 6th State of the University Address (SUA) on September 24, 2019 at the USM Gymnasium.
More than 1000 students, faculty, and staff flocked the gymnasium to attend this annual tradition. Expecting a big turnout of students and staff attending the program, the USM Information, Communication, and Technology Center set up a LED billboard wall and a speaker outside the gymnasium.
In his speech, Dr. Garcia highlighted innovation and progress as he gave a rundown of all the accomplishments under the current administration. A video production courtesy of the USM Media Team was played alongside the president's keynote address.
Some of the highlights included the recent forged partnerships between USM and two Local Government Units paving way for the full operation of Alamada and Libungan campuses under the Campus Head Dr. Jacinta T. Pueyo. The infrastructure developments in USM Main, the newly constructed building in USM-KCC, and the airconditioned classrooms in USM Libungan and Alamada all elicited positive reactions from the crowd.
"The four-fold functions of USM serve as the bridge for the betterment of the community," President Garcia said in his speech.
Dr. Garcia lauded the external partners of the University, i.e. 7th Infantry Battalion, Kabacan Local Government Unit, the Provincial Government of North Cotabato, and research partners, in improving the delivery of service of USM to its clientele.
Also present during the Special Program Convocation and SUA 2019 were the members of the USM Administrative Council and the USM Board of Regents. President Garcia was appointed as president of USM on February 14, 2014. Six months later, he delivered his first SUA on August 5, 2014. Prior to being the president, Dr. Garcia held several positions as member of the USM Administrative Council: director of Human Resource Management and Development Office (2008-2010), director of Finance and Management Division (2010-2013), Vice President for Resource Generation (2009), and Vice President for Administration and Finance (2013-2014).