When:
February 16, 2023
all-day
Asia/Manila Timezone
2023-02-16T00:00:00+08:00
2023-02-17T00:00:00+08:00
Where:
USM KCC
Sudapin
Kidapawan City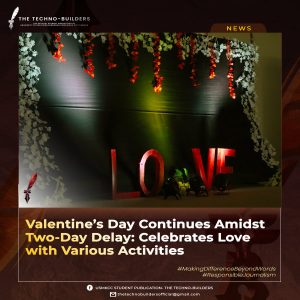 𝗩𝗮𝗹𝗲𝗻𝘁𝗶𝗻𝗲'𝘀 𝗗𝗮𝘆 𝗖𝗼𝗻𝘁𝗶𝗻𝘂𝗲𝘀 𝗔𝗺𝗶𝗱𝘀𝘁 𝗧𝘄𝗼-𝗗𝗮𝘆 𝗗𝗲𝗹𝗮𝘆: 𝗖𝗲𝗹𝗲𝗯𝗿𝗮𝘁𝗲𝘀 𝗟𝗼𝘃𝗲 𝘄𝗶𝘁𝗵 𝗩𝗮𝗿𝗶𝗼𝘂𝘀 𝗔𝗰𝘁𝗶𝘃𝗶𝘁𝗶𝗲𝘀
Organized by the Autonomous Student Government, the awaited Valentine's Day Special finally took place today, February 16, 2023, at the school's covered court, themed "Amor Vincit Omnia (Love Conquers All): USM-KCC Heart's Day, Beautiful Day- An Engaging Celebration of Love and Kindness" bringing fun, laughter, and romance to the expectant.
The said event was supposed to materialize two days ago, February 14, 2023, but was postponed due to an announcement by Hon. Pao Evangelista to suspend classes following heavy rainfall.
"Since di man nato mapugngan ang weather, so dapat iuna jud nato ang safety sa mga students. That's why nag adjusts ang ASG na dili sa ipadayon ang activity. Despite the delay, I would like to say thank you sa mga students na nag-participate, especially sa mga faculty ganina and sa mga nag attend pud didto." The ASG President, Jeric L. Espino conveyed.
The event was flooded with students and a few educators who were willing to join in the fun of the season. They were greeted with exciting activities, including a wedding booth, jail booth, photobooth, confession flowers, love express, and a random couple photoshoot. Each activity was intended to add a touch of affection and kindness to the celebration.
"Yes, na-enjoy nako and wala gyud ko nag-expect ganiha sa kasal-kasal nga nahitabo, then nag-enjoy pud ko sa mga songs kag syempre even late na siya, still gin padayon gihapon ang event." Ms. Dessa Jean Dayaday, a BSIE student said.
Everyone was serenaded by the ASG acoustic jam team as they were enjoying each gimmick. All in all, students fancied the event and made it an opportunity to de-stress and unwind.
"Sa mga subjects na stressed na kayo ta, tabang jud ka'yo ni siya na event kay para naa pud tay time na makarelax and magawas nato atong ka-happy sa sarili. 100% nindot jud siya na event sa ASG kay solid ka'yo ang time na gihimo nila." said Mr. Leslie Pines, a BSEE student.
The tempestuous weather for the past two days isn't enough to rain on their parade. Truly, the ASG displayed quality service to its constituents. A leadership camp is to be expected as expressed by the ASG president. The said camp will be a training ground for future student leaders of USM-KCC.
𝐓𝐞𝐱𝐭: 𝐑𝐢𝐜𝐚 𝐂. 𝐎𝐦𝐚𝐦𝐨𝐬| 𝐓𝐓𝐁 𝐀𝐬𝐬𝐨𝐜𝐢𝐚𝐭𝐞 𝐄𝐝𝐢𝐭𝐨𝐫 & 𝐏𝐚𝐮𝐥 𝐉𝐡𝐢𝐬𝐭𝐧𝐞𝐫 𝐂. 𝐁𝐚𝐢𝐬𝐚𝐜| 𝐓𝐓𝐁 𝐒𝐭𝐚𝐟𝐟 𝐖𝐫𝐢𝐭𝐞𝐫
𝐏𝐡𝐨𝐭𝐨:𝐑𝐞𝐲𝐦𝐚𝐫 𝐀. 𝐕𝐢𝐨𝐥𝐨𝐧| 𝐓𝐓𝐁 𝐂𝐨𝐧𝐭𝐫𝐢𝐛𝐮𝐭𝐨𝐫
𝐋𝐚𝐲𝐨𝐮𝐭:𝐒𝐭𝐞𝐯𝐞 𝐍𝐢𝐜𝐨 𝐌. 𝐁𝐚𝐥𝐮𝐲𝐨𝐭|𝐓𝐓𝐁 𝐆𝐫𝐚𝐩𝐡𝐢𝐜 𝐃𝐞𝐬𝐢𝐠𝐧𝐞𝐫