The Department of Trade and Industry (DTI) Regional Office XII sponsored the First Regional Conference on Research-based Economic Agricultural Technologies and Enterprise which was held at Greenstate Suites, Koronadal City, South Cotabato last September 7-8, 2023. Around 68 project beneficiaries of the Rural Agro-enterprise Partnership for inclusive Development and Growth (RAPID Growth) Project attended the Re-CREATE 1. RAPID Growth Project aims to intensify agro-enterprise development in the rural areas. The Project serves as support to the Department of Trade and Industry's (DTI) thrust, themed as Trabaho, Negosyo and Kabuhayan (TNK), to bring employment, livelihood and enterprises to rural communities and reach more farming households, cooperatives and microenterprises, anchored on the Value Chain Approach.
With the theme "Pursuing sustainable agriculture through science-based innovation," the conference was successfully done which aimed to gather various Farmers Organization (FO) beneficiaries of RAPID and expose them to Science and Technology (S&T) based agricultural practices and tools.
The event invited field experts, researchers and professionals from different state universities and colleges (SUCs) and research institutions who pitched their scientific researches and findings covering the pre to post-harvest agricultural production processes. There was an open deliberation among speakers and audience to quench the thirst for knowledge and information.
Dr. Ardniel A. Baladjay, the Dean of the College Agriculture, shared his inputs on the topic "Scientific Researches on Coffee Production and Management." He gave emphasis on the importance of science-based coffee farming as one of the modalities in increasing the yield, thus enhancing the income of coffee farmers.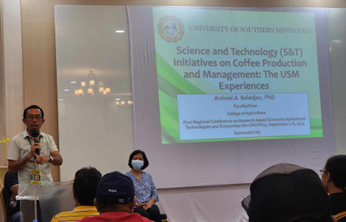 Prof. Harem R. Roca, Faculty from the Department of Horticulture and in-charge of the High Value Crops Processing Center (HVCPC) delivered his topics on USM community project titled "Going Bananas: Restoring Livelihoods of Conflict Affected Farmers in Cotabato and scientific research on "Rapid Micro-Propagation of Cardava Banana Planting Materials in Support of the Going Bananas Program" and "Tablea Processing and Basic Chocolate Processing."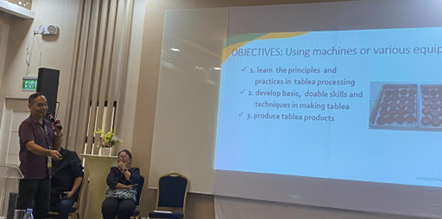 Moreover, Dr. Tamie C. Solpot, Head of the Department of Plant Pathology and a faculty-researcher unselfishly shared his research work on "Current Knowledge on Cacao Diseases and Management."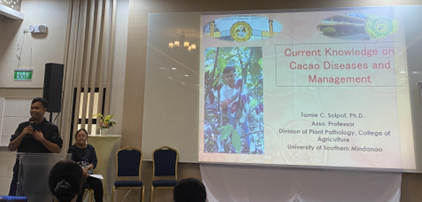 At the end of the two-day conference, the RAPID beneficiaries, stakeholders, and innovation experts was able to assemble and exchange scientific knowledge, discuss industrial issues, and expand networks leading towards innovative and progressive cacao, coffee, cardava and coconut industry in Region 12.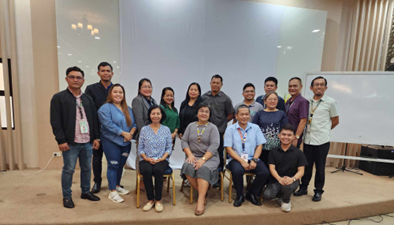 Contributed by Ardniel A. Baladjay