Sealing its status as a Level IV University, the University of Southern Mindanao (USM) registered a high passing rate of 60.00% in the Veterinarian Board Exam. USM's rating is higher than the national passing rate of 41.95%. Eighteen out of 30 takers from the University are now Veterinary Doctors.
The following are the University's alumni recently conferred as licensed veterinarians:
Jeehan Danielle D. Balbuena, DVM
Jassy B. Bautista, DVM
Fritzgerald C. Duco, DVM
Geselle C. Facto, DVM
Kim C. Fueconcillo, DVM
Kurt John S. Gloriana, DVM
Jacquiline L. Juaban, DVM
Jeraldine A. Macaraeg, DVM
Jacquiline R. Madi, DVM
Dexter C. Panes, DVM
Mark Stephen B. Patarata, DVM
Jessa Dell A. Remonde, DVM
Sharmaine B. Somera, DVM
Jvcatz F. Telin, DVM
Honey Grace F. Tolentino, DVM
Keneth Jay O. Toraja, DVM
Jeanevieve D. Torino, DVM
Normalija B. Usman, DVM
USM is one of the 9 out of 23 higher learning institutions (HEIs) offering Doctor of Veterinary Medicine to surpass the national passing rate. Moreover, it is the top three HEI with the highest passing percentage.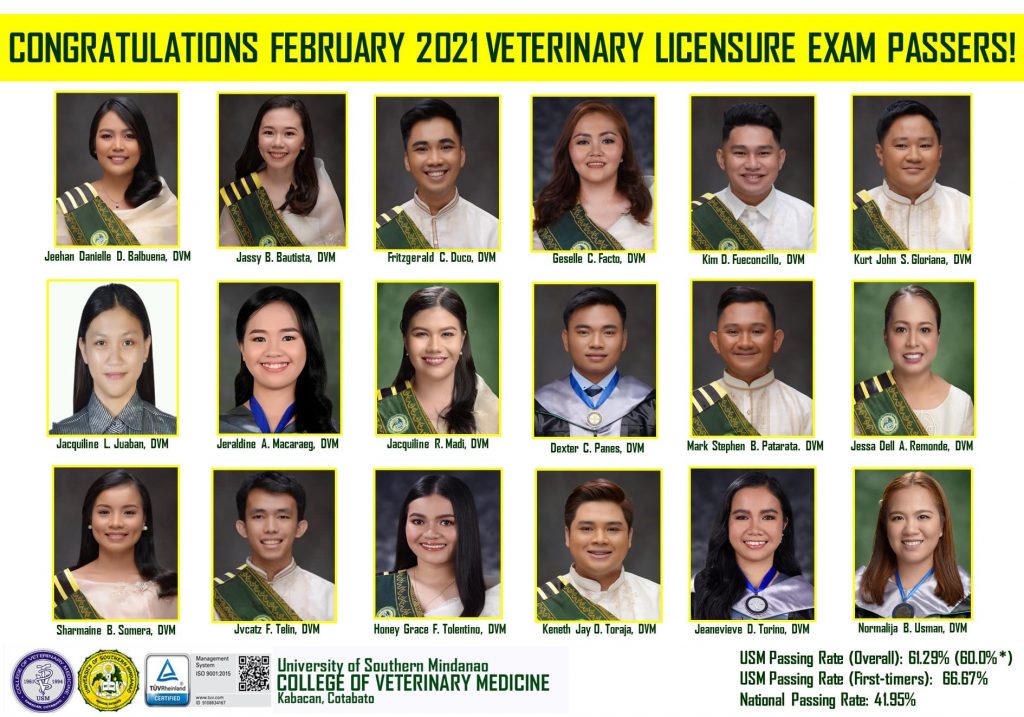 Dr. Rolando Garduque, the newly appointed dean of the College of Veterinary Medicine (CVM), expressed his gratitude for the College's recent achievement. The CVM faculty members and staff also commended the support of the University. As the former dean, Dr. Emerlie R. Okit acknowledged the leadership of USM President, Dr. Francisco Gil N. Garcia.
CVM's powerhouse faculty members spearheaded and monitored the review of their test takers.
CVM is ISO certified and awarded as the Center of Development by the Commission of Higher Education. Also, it passed the Accrediting Agency of Chartered Colleges and Universities in the Philippines Level IV Phase 1 accreditation.
Two hundred ninety-two out of 696 takers successfully passed the Veterinarian Board Exam conducted on February 2-4, 2021 at the following major areas and cities: NCR, Baguio, Cagayan de Oro, Cebu, Davao, and Tuguegarao.